A Shintaido retreat, known as a "gasshuku," is an excellent introduction to Shintaido.
It's a celebration, a workshop, a gathering of the tribe, a meditative retreat and an educational forum combined in one. The Japanese word "gasshuku" means "together under one roof" and suggests a gathering devoted to intensive practice and enjoyment of community.
Shintaido North East organizes gasshuku at various locations, usually twice per year. Gasshuku are open to all, from beginners to advanced practitioners. Instruction is provided appropriate to the physical ability and experience of participants. The teaching staff includes several experienced local instructors and often a special guest instructor.
---
Shintaido Northeast Kangeiko
February 11-12, 2017
Earthdance
252 Prospect Street, Plainfield, MA 01070
Peaceful Reconciliation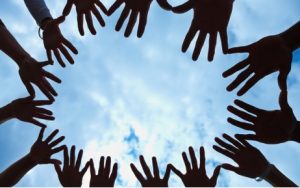 The last year was a tumultuous and divisive one for our country. As always it's unclear the future holds; some are even frightened of what's ahead.
Creating and promoting harmony has always been part of Shintaido. How can we take what is in our spirits and bodies and project these sentiments to our friends and the world outside? Join us as we explore how to use our practice in ways that can encourage good will and understanding.
Shintaido Northeast Kangeiko returns to Earthdance in Plainfield MA, February 11 and 12. The weekend will consist of two Saturday keikos and one Sunday keiko, and time to relax. All meals are provided.
Costs
Full price…………………………….$195
First time attendees……………..$155
Please register in advance at: http://sne.shintaido.org/registration
Or make out a check payable to Shintaido Northeast, and send your check to:
Stephen Billias, 60 Graves Street, South Deerfield, MA 01373.
Directions to Earthdance online: http://www.earthdance.net/visit/directions
Kangeiko Schedule
(subject to change)
Saturday, Feb. 11
9- 10:00 Arrival and registration
10:00 Opening gathering
10:30 Keiko 1
1:00 Lunch
2:00 Free time
3:00 Keiko 2
6:00 Dinner
Sunday, Feb. 12
8:00 Breakfast
9:30 Keiko 3
1:00 Lunch
2:30 Closing
3:00 Departure
For more information contact Roger Solomon, Manager:
Phone: 860 928-7145 or email: Roger Solomon
---
Other Shintaido Retreats
Info on other retreats in the U.S. can be found at Shintaido of America