| history | curriculum | what's in a class | philosophy | can I do this? | what to wear |
---
Shintaido
or "new body way," is an holistic art of body movement. Born from the ancient traditions of Japan, Shintaido draws on martial arts, meditation, and artistic creativity to form an amazing and invigorating mind-body movement technique.
Shintaido includes:
health exercise
artistic expression
martial arts
meditation
Shintaido is not a self-defense technique for fighting with other people. But if you belive that the "enemies" are stress, alienation, environmental toxins, junk information overload, fear — then Shintaido may be just what you are looking for.
In Japanese, 'kokoro no uta' means 'singing from the heart.' This is as much a quality of Shintaido as it is of music.

— Henry Kaiser, musician

Shintaido is a playground for grown-ups.

— Haruyoshi Ito, Shintaido master

Shintaido is excellent for warming up the body, for increasing strength, flexibility and balance, and for relaxation and general conditioning.

— David Palmer, founder TouchPro School of On-site Massage

Shintaido will enlighten and redeem the young generation in America today.

— Alan Watts, author
---
Shintaido was developed in Japan in the 1960s. Several students of karate master Shigeru Egami, the head of the Shotokai school, formed their own school not bound by the limitations of traditional martial arts.
This group, called Rakutenkai ("meeting of optimists"), was organized by Mr. Hiroyuki Aoki. Trained as an actor and artist, he had attained a 5th-degree black belt in Shotokai Karate and was Egami's top student. His generation was marked by the dropping of the atomic bomb, and the Rakutenkai group aimed to transform the wisdom of ancient traditions into a contemporary idiom.
The new movement discipline they developed was later named Shintaido, and many non-Japanese who studied it eventually brought it back to their home countries. Shintaido of America was founded in 1975 by Haruyoshi F. Ito and Michael Thompson.
Two books that cover the history in more detail are available from Shintaido of America Publications

---
The basic open-hand Shintaido curriculum includes
use of voice
developing unified movement from the center
opening and strengthening the legs, hips, and lower body
cooperative partner exercises
energy sensitivity training
developing expansive movement
In addition, there are several specialized areas which apply the principles of Shintaido to martial arts and other disciplines
bojutsu (using a 6-foot wooden staff)
kenjutsu (using a wooden sword)
Shintaido karate
meditation
relaxation and health exercises (kenko taiso)
(The textbook on Shintaido Bojutsu published by Koudansha International is available from Amazon.com)

---
What to expect at a Shintaido practice
Most classes are 90 minutes or 2 hours. When you come to Shintaido, don't worry about athletic ability, talent, or previous movement experience. Just do the best you can and enjoy moving your body. It's OK to rest when you need to and re-join the class when you can.
Shintaido practice follows this general outline:
Warm-ups and Stretching
release tension, develop flexibility, and prepare for movement
Opening Exercises ("mind and body opening")
strengthening and aerobic techniques to expand movement from the center and awaken the mind
Basic Techniques ("unifying foundations")
forms for unifying movement and deepening concentration, sometimes using vocalization
Partner Practice ("joining hands")
emphasizing cooperation, communication and awareness, rather than self-defense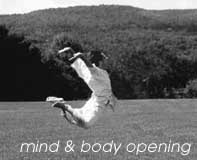 ---
Shintaido is not affiliated with any religion or particular philosophy, but has been inspired by many great philosophies, religious traditions, and artistic achievements of history. The core of Shintaido philosophy comes from its own origins: to go beyond violence, and through body movement realize our hidden talents and true nature as human beings.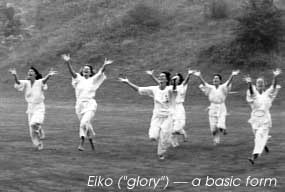 ---
Shintaido is open to everyone and can be enjoyed by athletic and unathletic alike. Shintaido can be very physically intense or gentle and meditative. With a wide range of movements, a do-what-you-can attitude is encouraged, with the goal of providing each student with an appropriate level of challenge.
---
A traditional white gi (martial arts uniform) with a white belt is the standard dress for all levels of experience. If you don't have a gi, white cotton is preferable. Wear loose-fitting clothes for movement. Bare feet or tabi (Japanese shoes with thin rubber soles) are best, or sneakers with soft soles that allow your toes and feet to move.